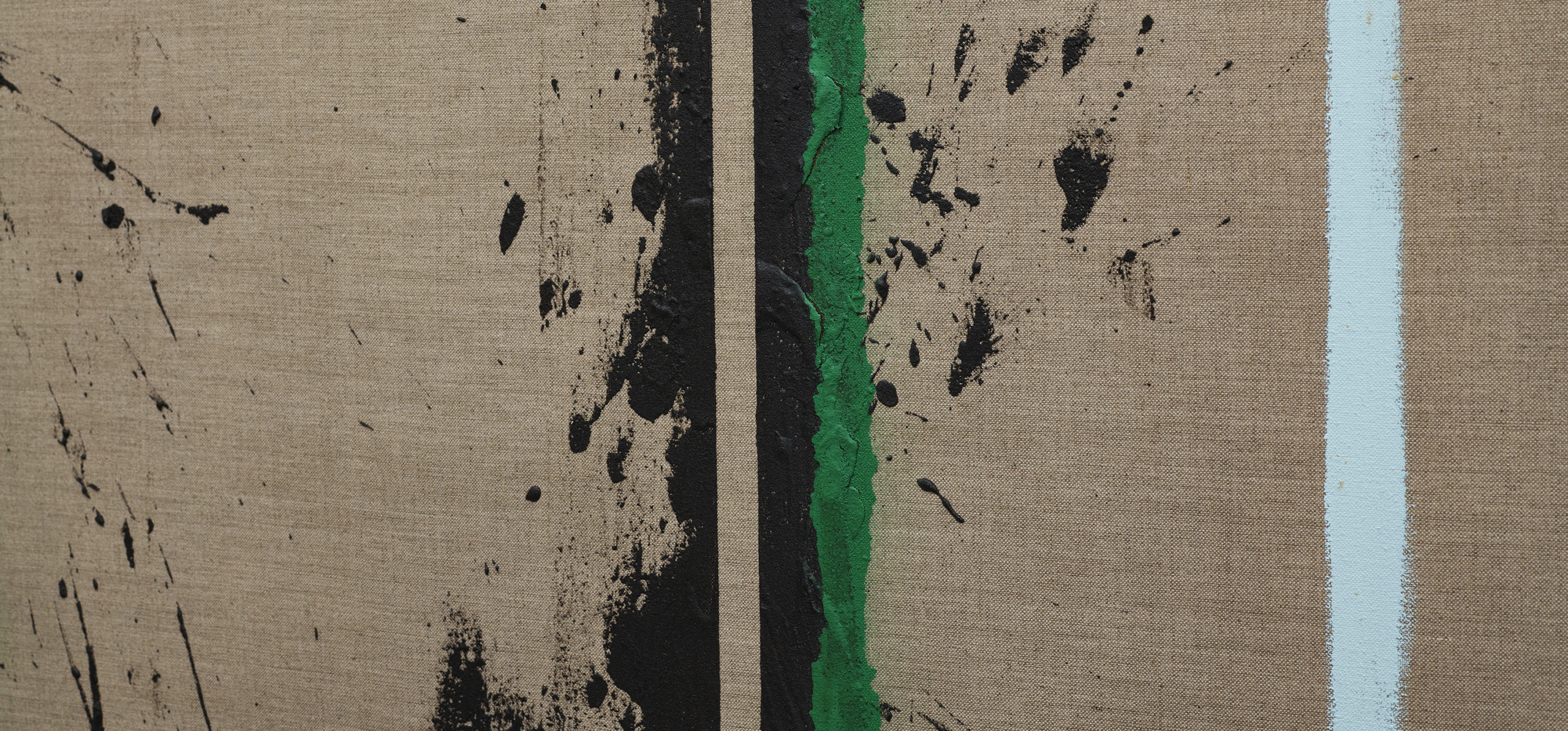 Koen van den Broek, detail – Stations Green And Light Blue, 2023 (traffic paint and tar on canvas)
Koen van den Broek
The Real World
September 30 ⏤ October 22, 2023
The Belgian artist Koen van den Broek (b. 1973 in Bree, Belgium) has established his presence in the contemporary art scene by developing his own style crossing the boundary of the figurative and abstract art. Van den Broek has honed his own unique sense of abstraction based on the modern urban landscape.
At the outset of his career, photography served as the point of origin, but it has since quietly evolved beyond that starting point. Van den Broek's way of painting and of working has changed greatly over the years. He is an artist who does not want to stick to a particular identity. His art and way of working evolve with him and the world he lives in, as he continually renews and reinvents himself.
Koen van den Broek seeks inspiration in 'being on the road'. Countless road trips fuel his work. With self-photographed snapshots, the artist very secularly and functionally lays the basis for his painting. Unlike a sketchbook, the photographic images only function as mnemonic devices, recording interesting lines, structures and twists in the observed landscape. They are no more than formal reminders of observed atmospheres; they have little or no emotional value. The registrations seem to 'reject' being on the road. What fascinates the artist are the small segments of reality that go quasi unnoticed by most of us. A kerbstone, a shadow on the lane that suggests the presence of a truck, a bare, snow-covered forest landscape, a simple house with uncharacteristically banal garage door, a motorway describing an exciting (yet also clichéd) curve through the landscape, cracks in the asphalt that no one pays attention to.
Big Pine, Mammoth lakes – Bishop, California, Highway 168
Courtesy studio Koen van den Broek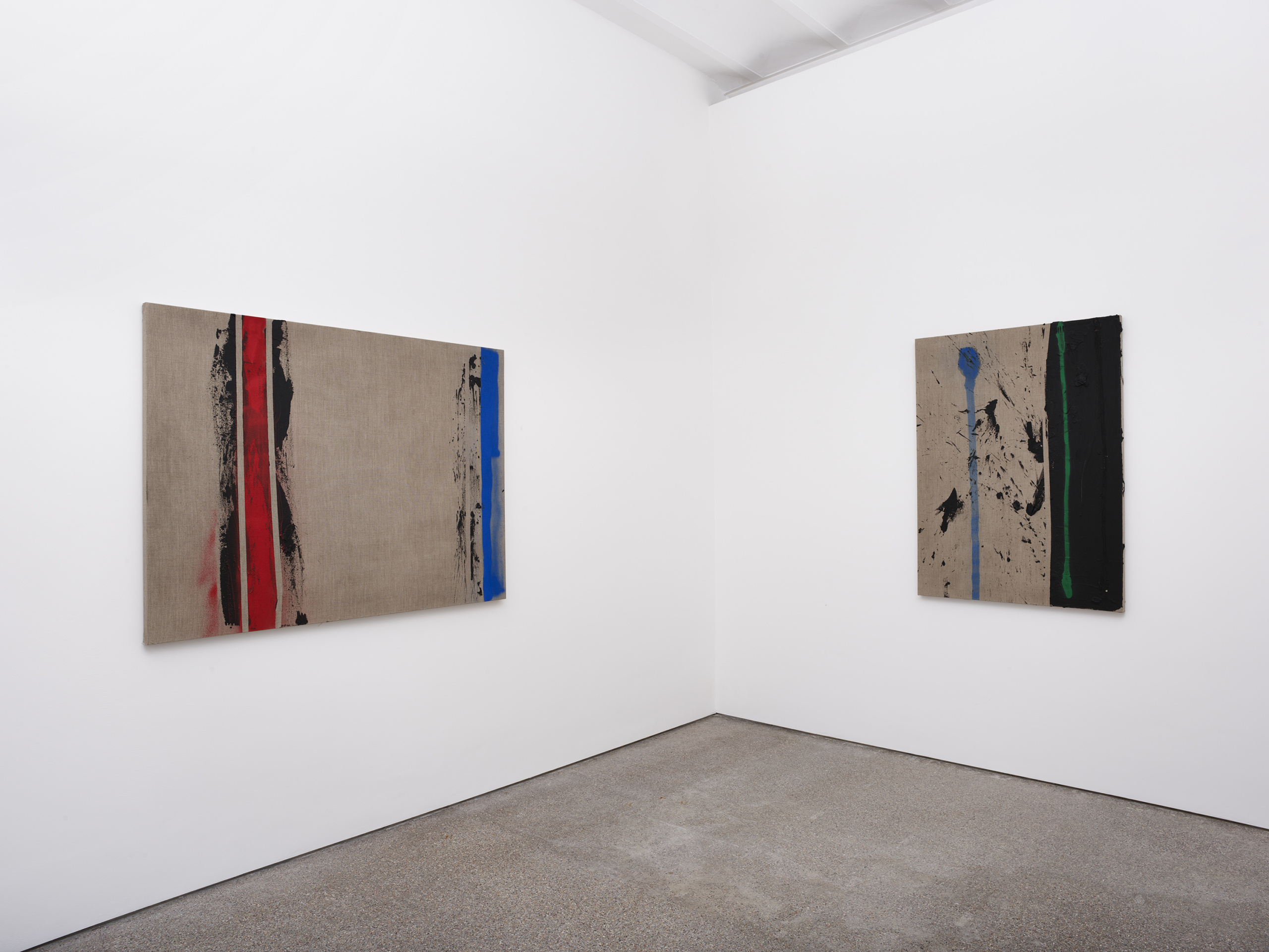 Installation view, The Real World, OVR Galerie Greta Meert, 2023
Koen van den Broek focuses his gaze on a side of society that no one has an eye for. He sees the back or side of objects, houses, urban or natural landscapes. He frames his subject in such a way that it becomes banal. What could be an impressive viaduct in a landscape turns into a functional, dark construction with a patch of its natural context to the left and right. This 'anti-social' cadence is coupled with a painterly process in which van den Broek strips the images of all unnecessary detail, until only a few basic lines come to define the atmosphere. What remains is the 'experience' of space. The painterly elaboration flirts with abstraction.

Van den Broek is by no means interested in painting 'realistic' scenes but is all the more in search of atmospheric 'possibilities'. What he presents to the viewer are paintings, not landscapes, curbs or buildings.




Koen van den Broek, detail – Stations Yellow, 2023 (traffic paint and tar on canvas)
Already evident in his 2019 solo exhibition at Galerie Greta Meert was an evolution in his methodology, as if he started looking for a new way to depict the world, not only in the realm of sight but also in the feelings that the world around us develops in us. He wanted to depict the ground as it feels too. This necessitated the use of new materials other than oil paint.


These paintings depicting large architectural structures and biomorphic shapes seem to put forth a more intuitive and less controlled pictorial language than the earlier works. The vibrant colours and broad-brush strokes that construct each painting evoke a nervous, volatile energy and sense of rhythm; a sense of suspense propagates throughout the picture.

The apparent simplicity of these quasi-schematic representations allows the artist to evoke the urban environment through lines and colours, like those of the black tar strips that have long fascinated him for their calligraphic qualities. In order to explore the details of a cracked surface in the pavement or the marks left by the tires of a vehicle, his paintings operate by zooming in on their subjects. Again we see this revelling in abstraction as a necessity in the search for a subject of representation.
"I want to constantly question myself

by trying out new things, turning things around, looking for other materials and methods, testing new approaches. That way it

remains exciting to see where things are going"


⏤ Wouter Davidts, Koen van den Broek: STUFF, 2019, MER. B&L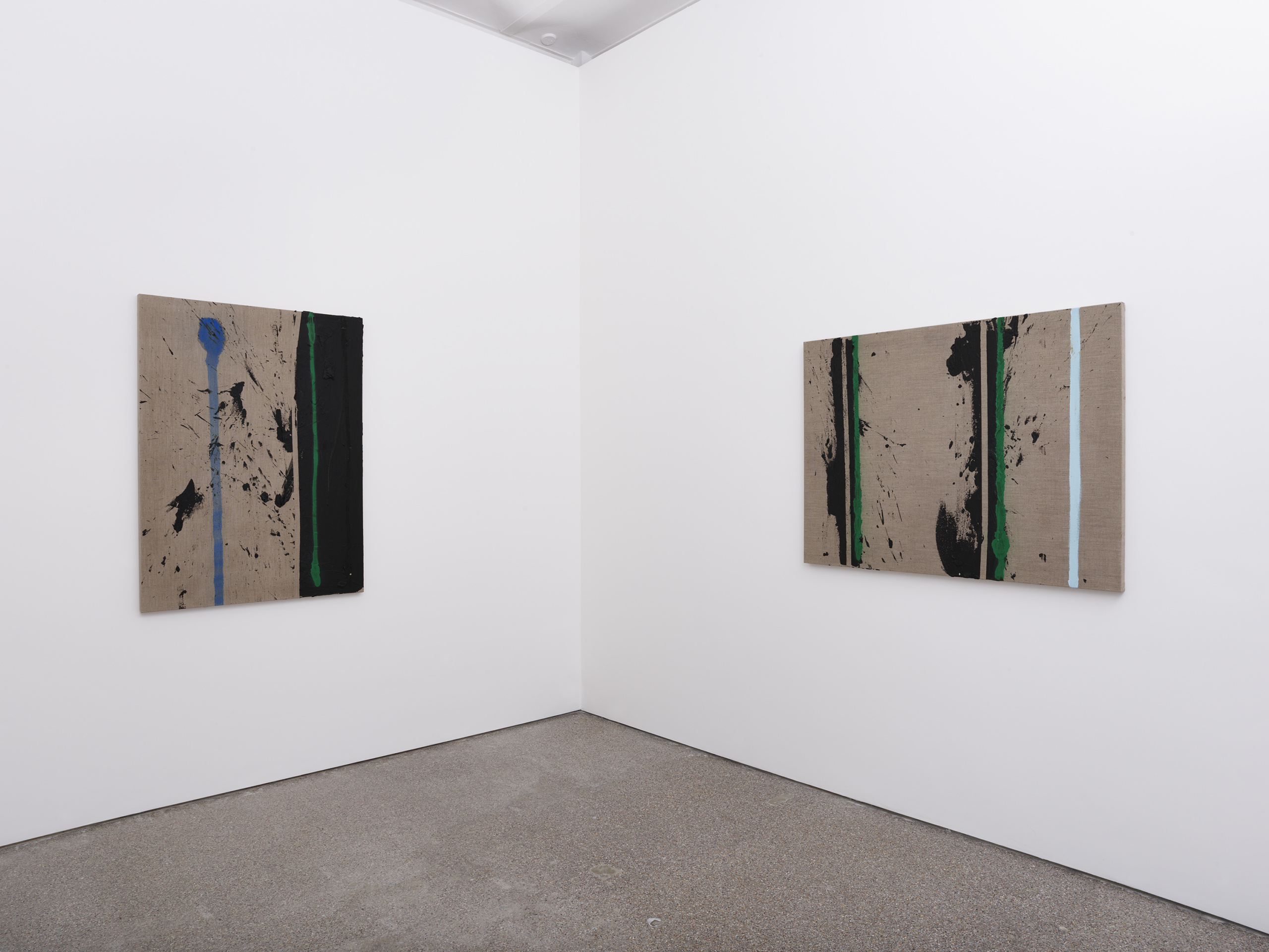 Installation view, The Real World, OVR Galerie Greta Meert, 2023
"One of the paradoxes of van den Broek's designs is that they overlay the formal language of neo-Constructivism with pictorial texturalism of post-Neo-Expressionist painting; so that many of the supplemental marks appear in a geometricizing range of blurr-edged verticals, horizontals, squares, lozenges and, of course, signature, curb-like ticks."

⏤ John C. Welchman, (Not a Colour Photograph): On the Drawing of Aspects in This is an Example of That, essay published in Crack, 2010.
In his early works, Koen van den Broek depicted scenes from everyday life through the lens of a pictorial narrator. However, as his art evolved, he stripped away subjectivity and narration, creating landscapes devoid of discernible stories. It's almost as if his painterly abstraction was arrived at as an accident in the search to essentialise the image's information to its bare elements, allowing us to explore the fundamental aspects of our visual perception.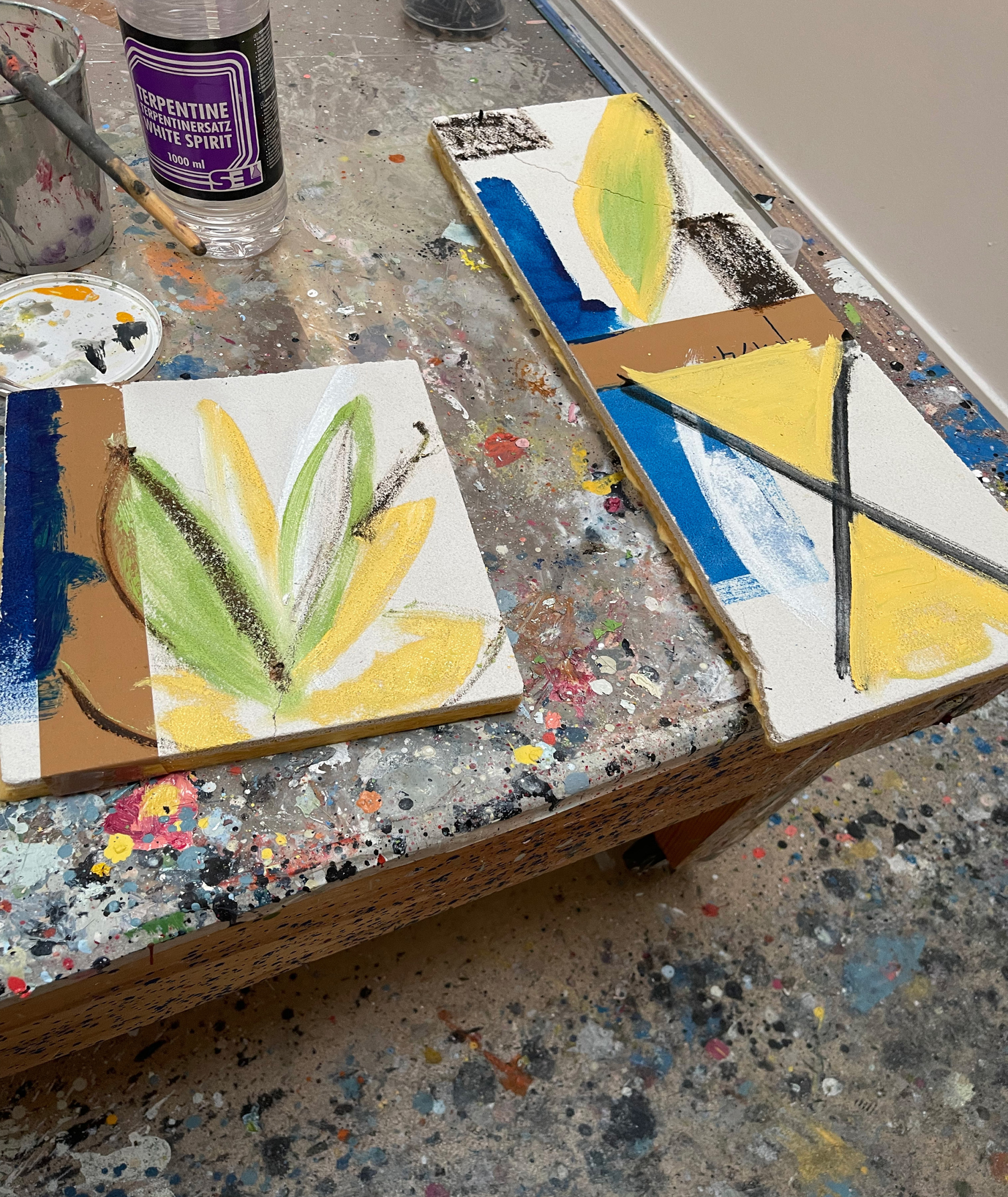 Courtesy studio Koen van den Broek
On February 16, 2023 Auditorium VANDENHOVE Center for Architecture and Art, University Ghent officially inaugurated the artwork "Plants, Shadows and Models (Mural) " by Koen van den Broek. This monumental wall painting located at the ground floor of the Vandenhove Pavilion completes one of the last designs of Charles Vandenhove with a unique in-situ artwork.
In conjunction with the solemn inauguration of the wall painting "Plants, Shadows and Models (Mural)" in the auditorium on the ground floor was an exhibition on the first floor featuring photos, designs drawings and sketches, complemented by a collection of old and recent works by Koen van den Broek.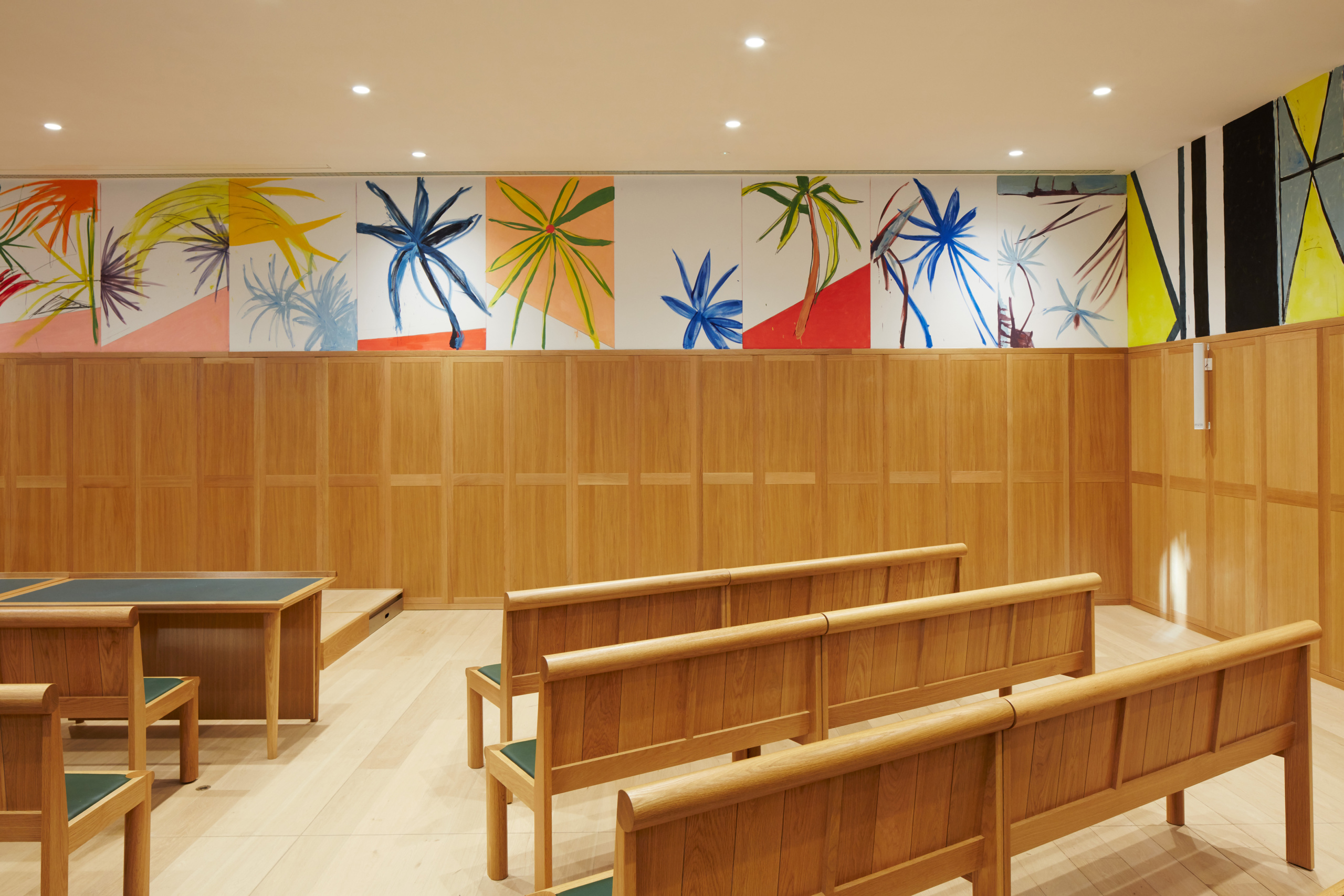 Auditorium VANDENHOVE Center for Architecture and Art, University Ghent, Plants, Shadows and Models (mural)
Image by Jan Kempenaers
In his recent work, Koen Van den Broek departs from Matisse-like lines and colours, embracing mixed techniques that bridge the materiality of his painting with the texture of gritty asphalt. The texture seamlessly integrates into the depicted image, treating voids as spaces and elevating cracks into an independent, expressive web that seems detached from the underlying painted surface. This sensation is amplified through the delicate interplay of evoked colours and the flattening of perspectives, creating an illusion of dynamic motion and boundless depth.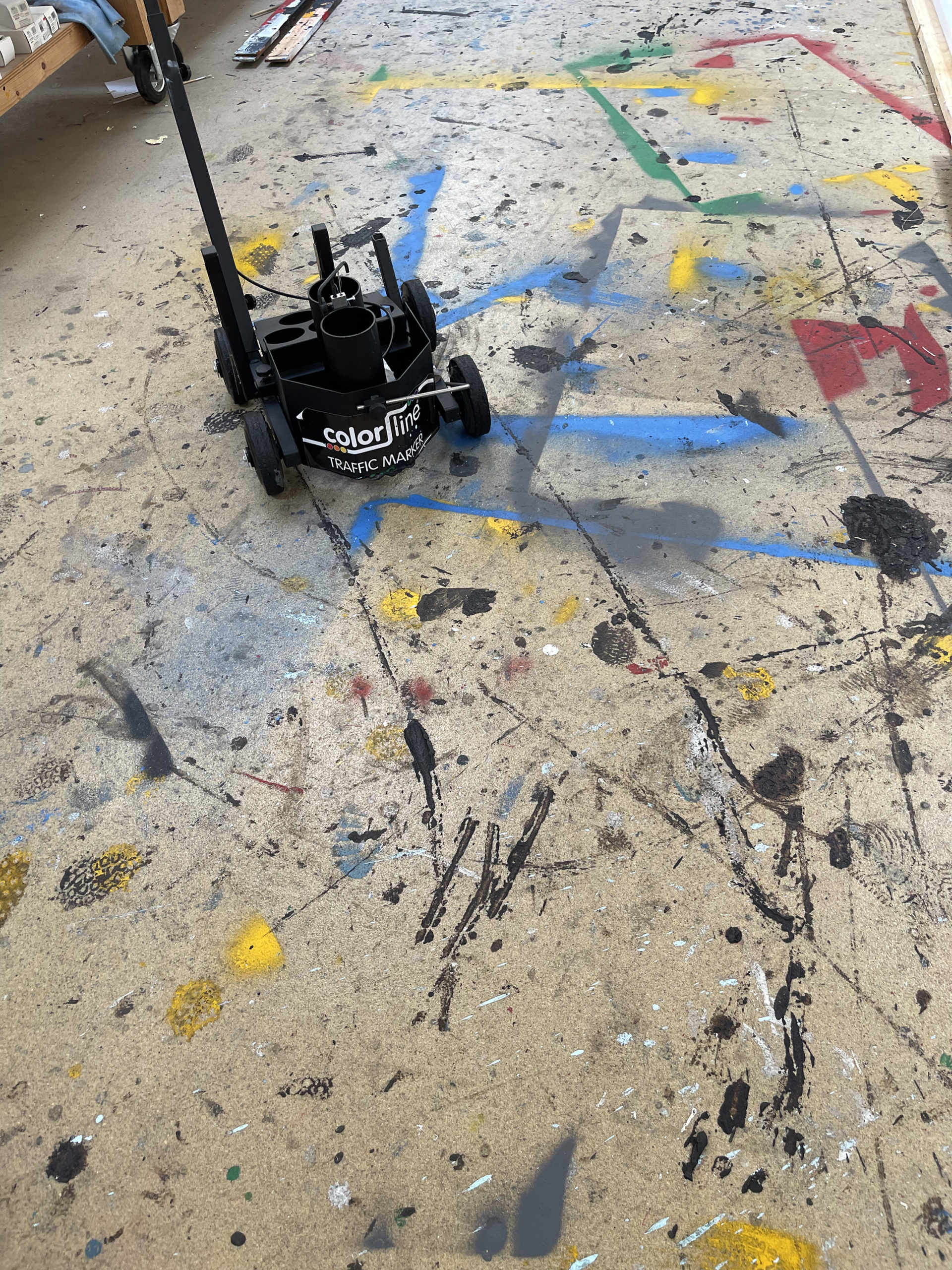 Tar, asphalt, pitch, and traffic paint have replaced oil paint as his mediums in the new body of work made for the online viewing room, but the challenging nature of these substances, and the use of heavy-duty road marking machines, forces him to work from above, with canvases on the ground. Corrections are next to impossible due to their unforgiving properties, but fresh textures and emotions abound.
These works aren't the result of happenstance but rather the culmination of years of deliberate practice. They represent not a departure from his style but a continuous exploration and reinterpretation of the same visual language, resulting in the multi-layered, fearless, and adventurous nature of van den Broek's body of work.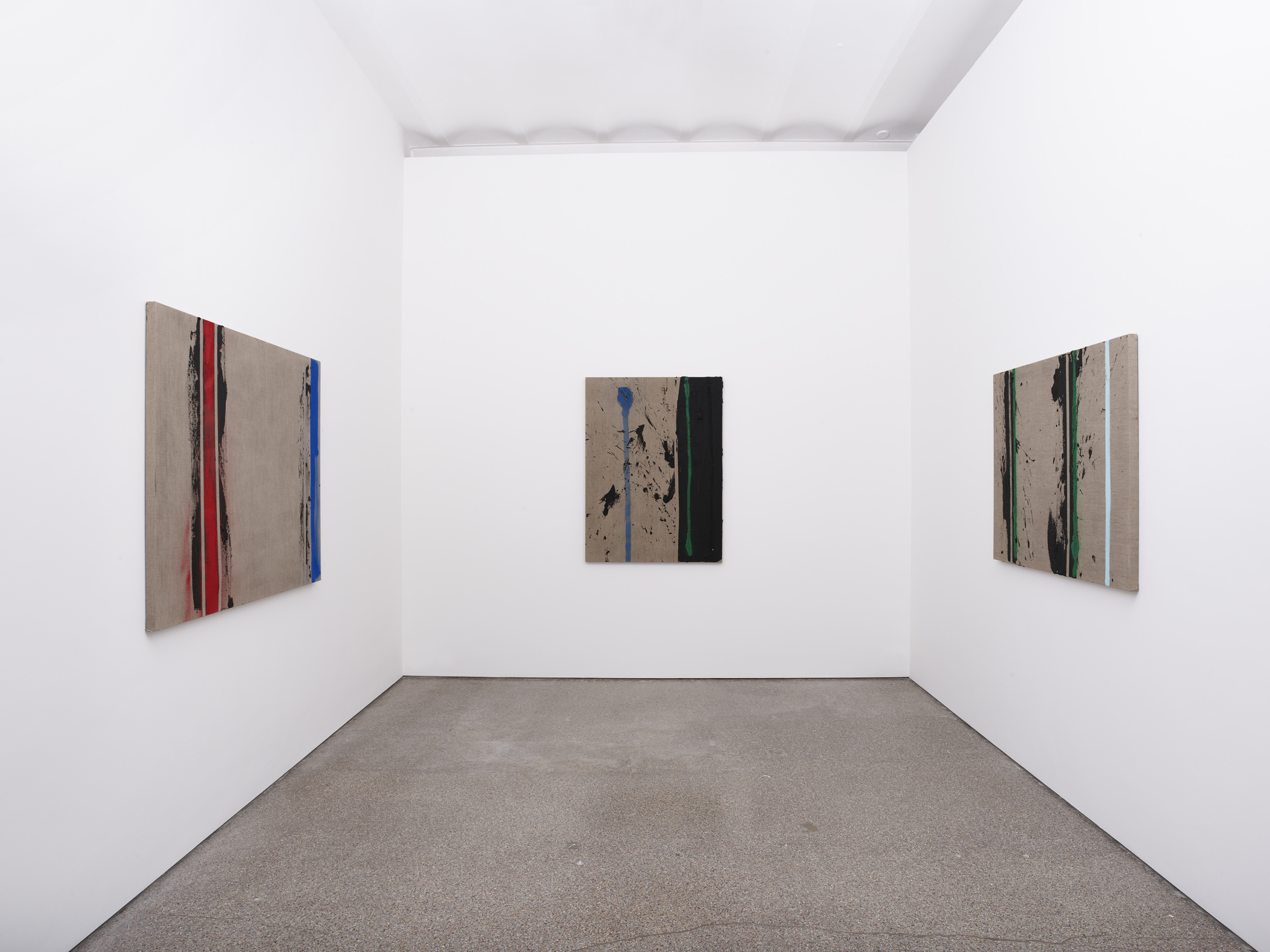 Installation view, The Real World, OVR Galerie Greta Meert, 2023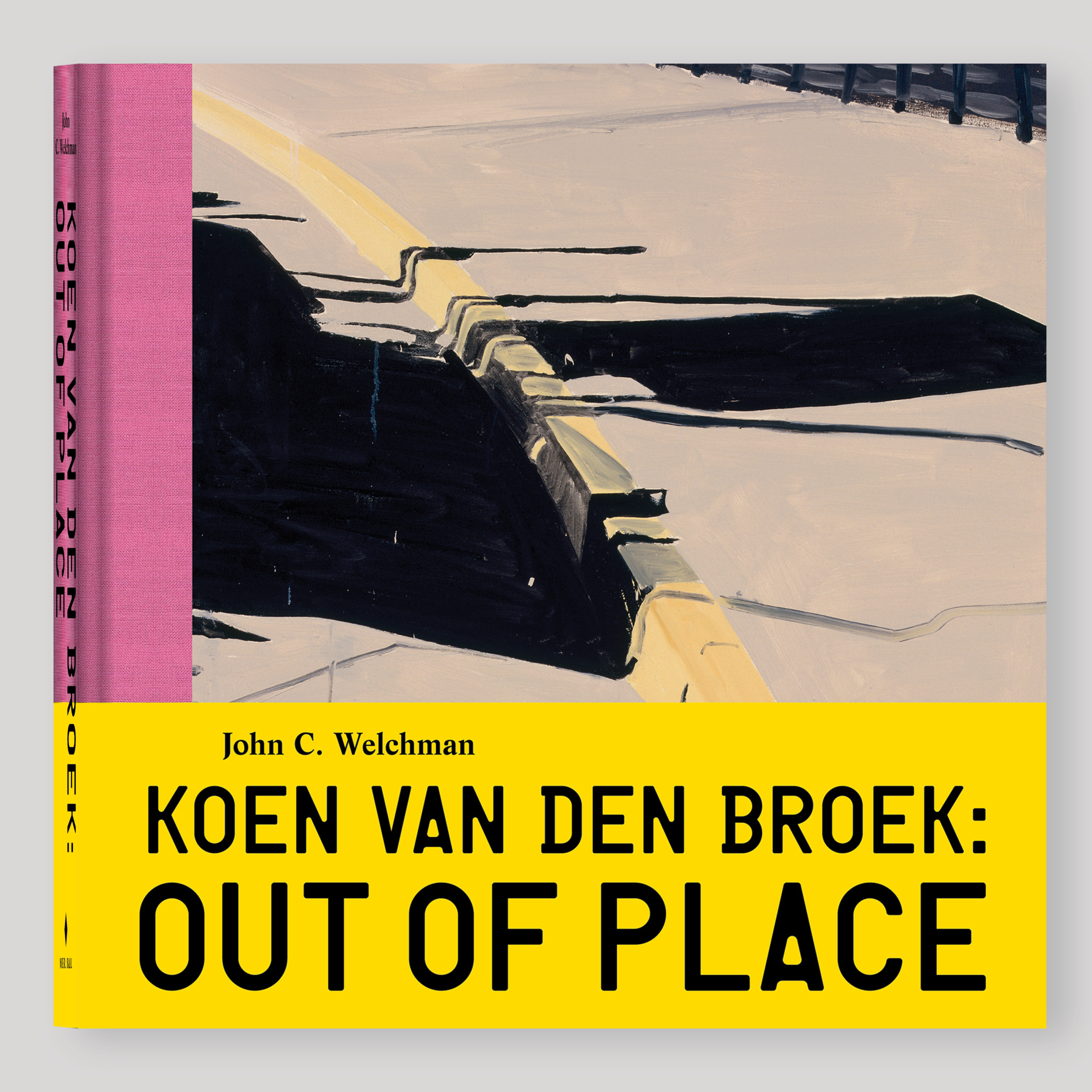 In Out of Place, noted LA-based art historian John C. Welchman offers a tour-de-force discussion of the first 25 years of Koen van den Broek's work. The book is partly chronological, partly attentive to the genres, styles, media and concepts around which the artist has innovated, from painting to public space. Welchman unpacks a wide spectrum of references and allusions—to Mondrian, Malevich, Matisse, Rothko and many other modernist artists; to postwar photographies; to the art cinemas of the 60s and 70s; and to the history of freeways, interstates and the evolution of the singular urban fabrics of the United States. He offers exciting new accounts of the defining orientation of the first decade of van den Broek's painting as it entered into pathbreaking pictorial dialogues with borders, shadows and cracks. The second part of the monograph takes up with a frankly surprising range of ideas and issues connected to figures, identities, landscape, ecology, appropriation, opera, and institutions … and to the striking material appurtenances of Formula 1 racing.
Book presentation in presence of the artist at Cloud Zeven (Handelskaai 7, 1000 Brussels) from 4 – 7pm
Gevelkunstwerk "Sampled" for the AZ Sint-Maarten hospital in Mechelen (Belgium)
Koen van den Broek currently lives and works in Antwerp in Belgium. He received a BA in Architect in KU Leuven and studied painting in St. Joost School of Art & Design, Breda, and in Royal Academy of Fine Arts, Higher Institute of Fine Arts in Belgium. He has participated in exhibitions at De Garage, Mechelen (2020), Museum Stedelijk Museum voor Actuele Kunst Ghent (2019, 2011, 2010, 2008), Museum of Modern Art Weserburg, Bremen (2016), Museum Dhondt-Dhaenens, Deurle (2014), Bonnefanten Museum, Maastricht (2008). His work is represented in the collections of Los Angeles County Museum of Art, San Francisco Museum of Modern Art in the USA, S.M.A.K., Museum of Modern Art Antwerp in Belgium, and Leeum Museum of Art, Busan Museum of Art in Korea.

Upcoming exhibitions include "Of(f) Road" at the Kunstmuseum Magdeburg (Germany), opening on October the 14th.