Installation view, Galerie Greta Meert, 2022
Jean-Luc Moulène
February 24 ⏤ May 1, 2022
Conceived like a scale model, Jean-Luc Moulène's fifth solo exhibition at Galerie Greta Meert addresses visitors and passerby alike. In a series of assemblages titled with the affirmation OUI, the artist combines axe handles, shovel sticks, turned wood pieces and dibbers into non-hierarchal structures. The handles that usually give objects their orientation are turned inward, imbricated, and joint together. These multidirectional structures populate the street-level gallery space like loosely untangled knots, they are at once selfcontained and rhizomatic — visual manifestations of thought made tangible. Positioned in-between all things, his assemblages act as transmitters, they create links without ligatures. With different ink colours and resin coatings, these two and three-dimensional constructions evoke the practice of drawing by delineating pictorial planes and mapping out architectural volumes.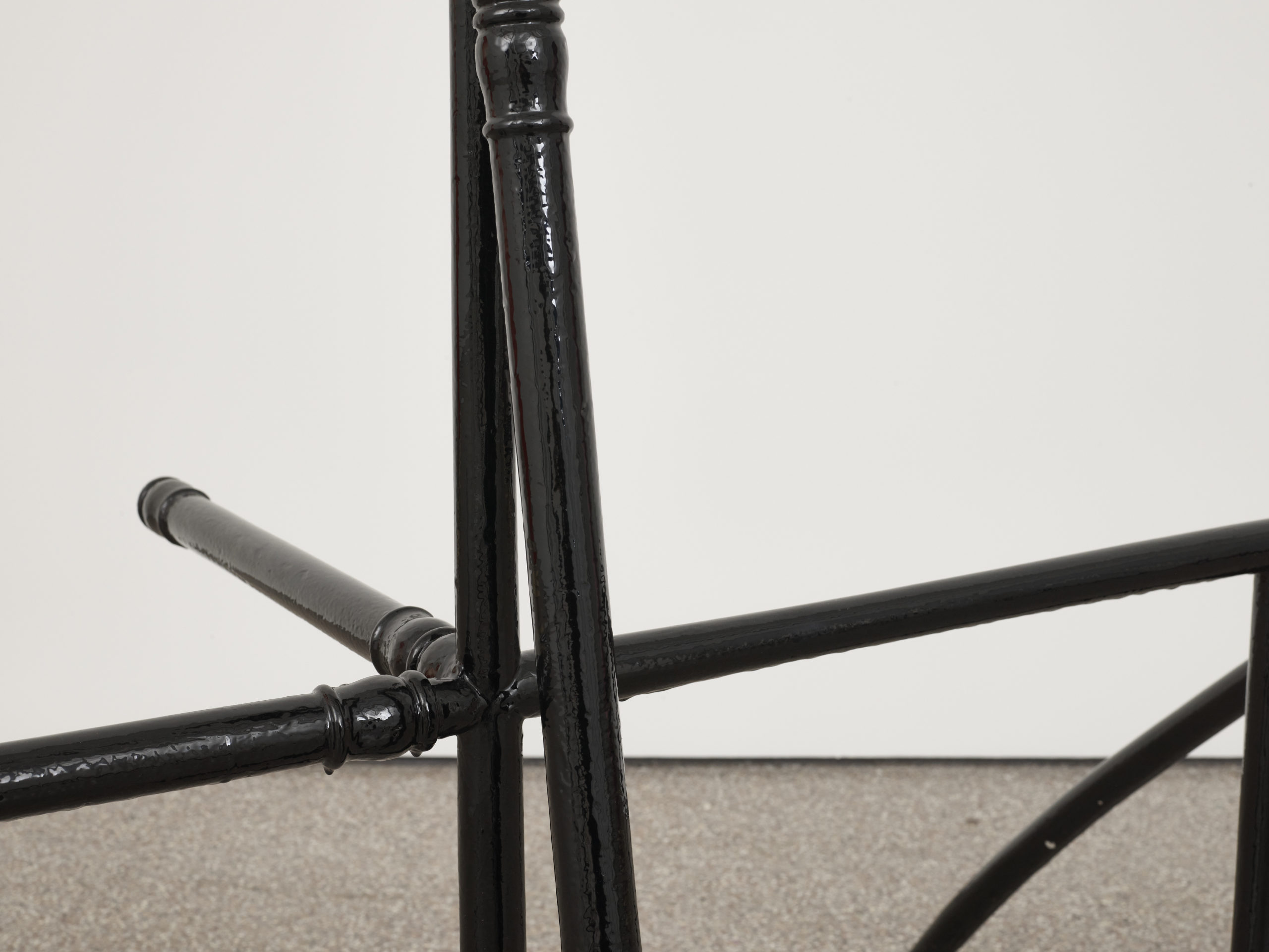 Jean-Luc Moulène,
OUI Tourné et goudronné
(detail), Le Buisson 2022, wooden handles, turned wood pieces, tar, screws, and bolts
(124 x 168 x 119 cm)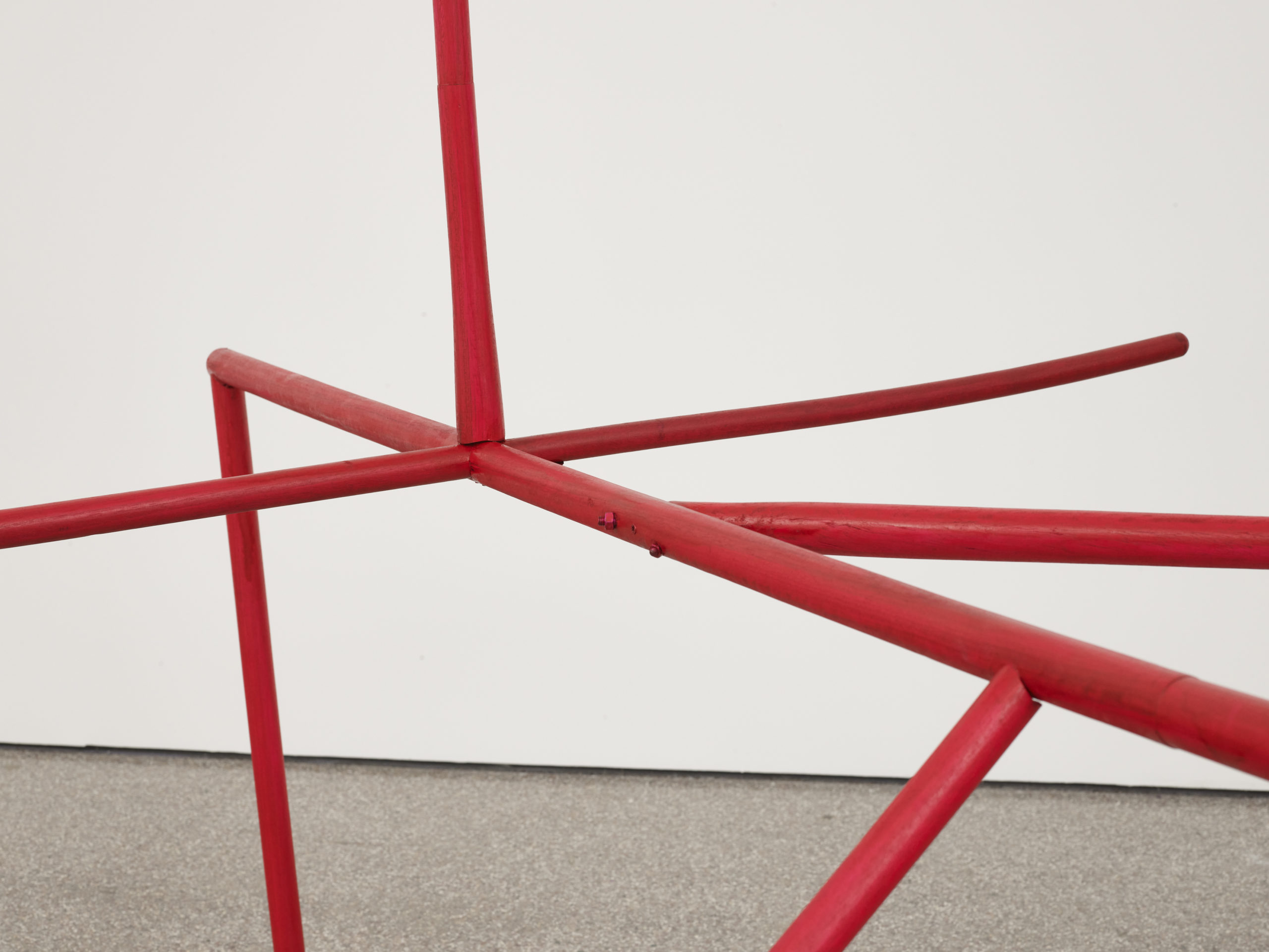 Jean-Luc Moulène, OUI Rouge (detail), Le Buisson 2022, wooden handles, shellac, red Bic ink, screws and bolts (156 x 185 x 151 cm)
Logic and rhetoric are concurrently made to split and collide throughout the exhibition. The anatomical cut of a human bone sealed under a thick layer of caramel coloured epoxy sits on a custom plinth like a decadent French dessert. A scythe and a gallows seem to merge in an ominously shaped device that leans against the wall. Supported by a structure made out of their own wood frames, two standard-sized doors coloured with red and blue Bic ink are suspended at an angle like defensive shields. Bones, cuts and knots
are recurring motifs in Moulène's work, they concurrently produce junctions and disjunctions that allow the artist to articulate various modes of thinking.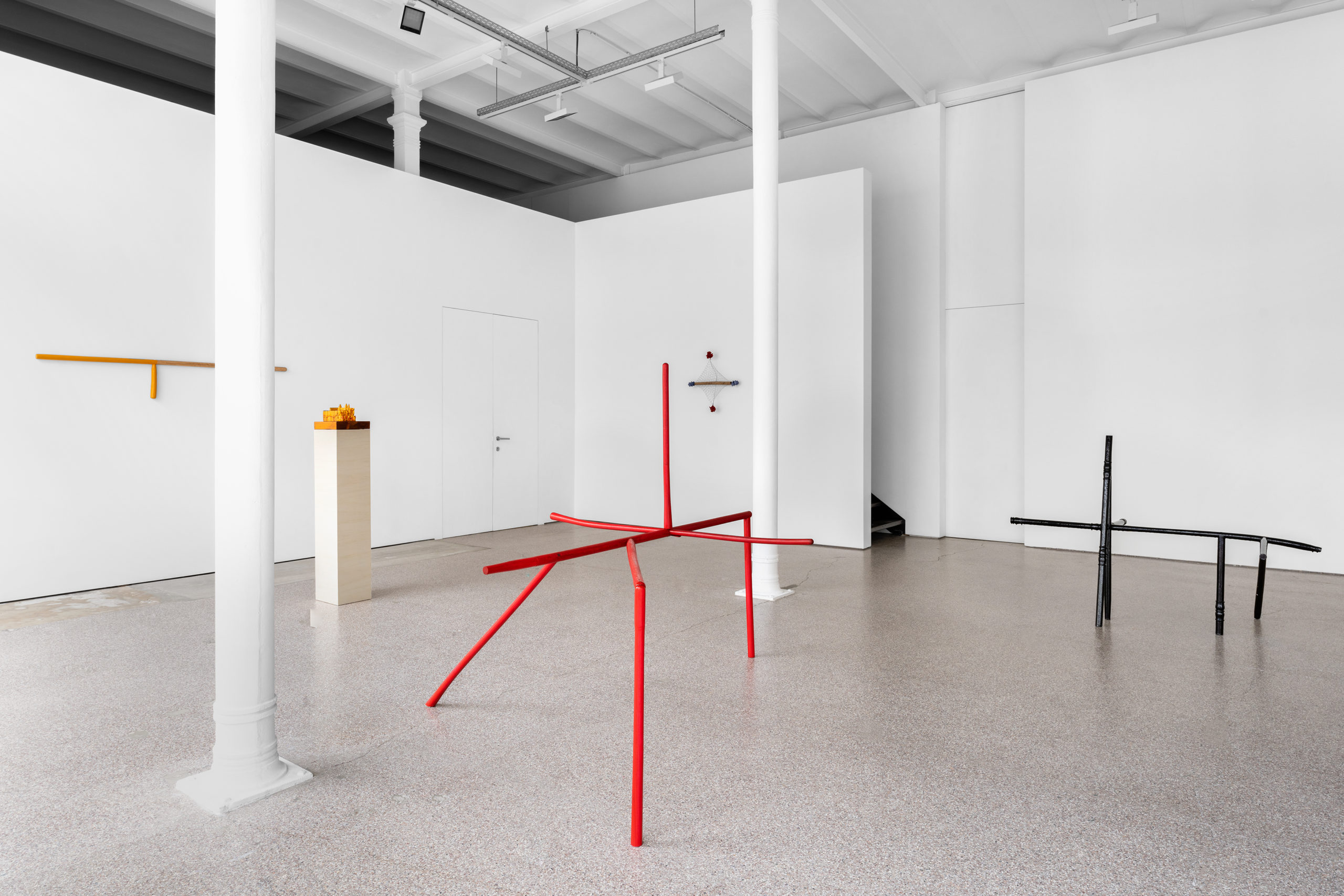 Installation view, Galerie Greta Meert, 2022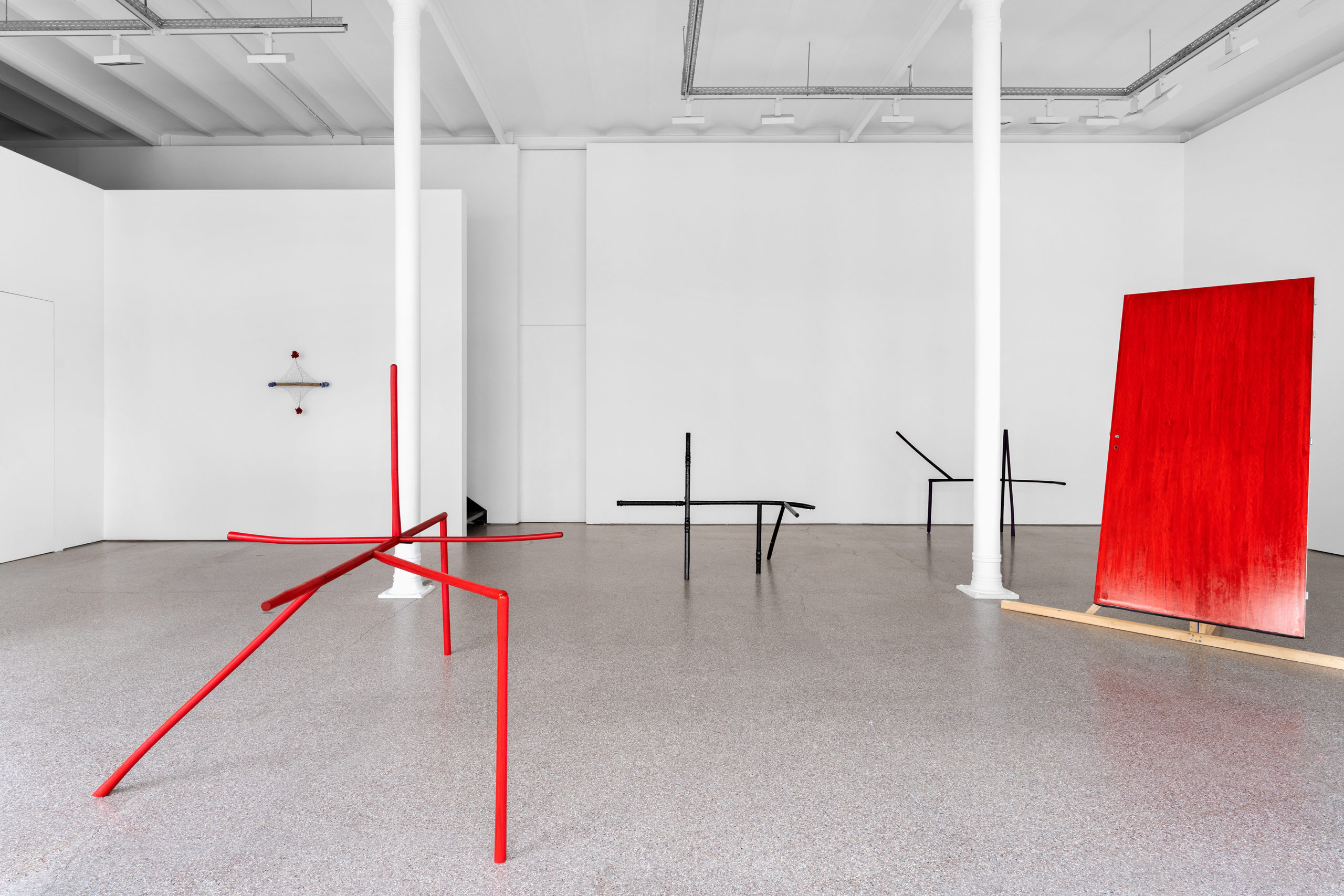 Installation view, Galerie Greta Meert, 2022
Installation view, Galerie Greta Meert, 2022
By connecting and merging different realms of philosophical and technical knowledge within the concrete bounds of objects, Moulène approaches abstraction in a way that bypasses the self- reflexive dead-ends of contemporary art. In the words of Reza Negarestani, "Jean-Luc Moulène practices abstraction in a long- forgotten tradition in which the procedure has evolved as a force of thought that rends matter and gives the inert a noetic thrust that determines the trajectory of thought and imagination." As in the small wall-mounted piece Untitled(Réthorique), which functions as a kind of conceptual model for the exhibition, Moulène's allegorical combinations and formal protocols structurally disrupt and reconfigure the logics of attribution.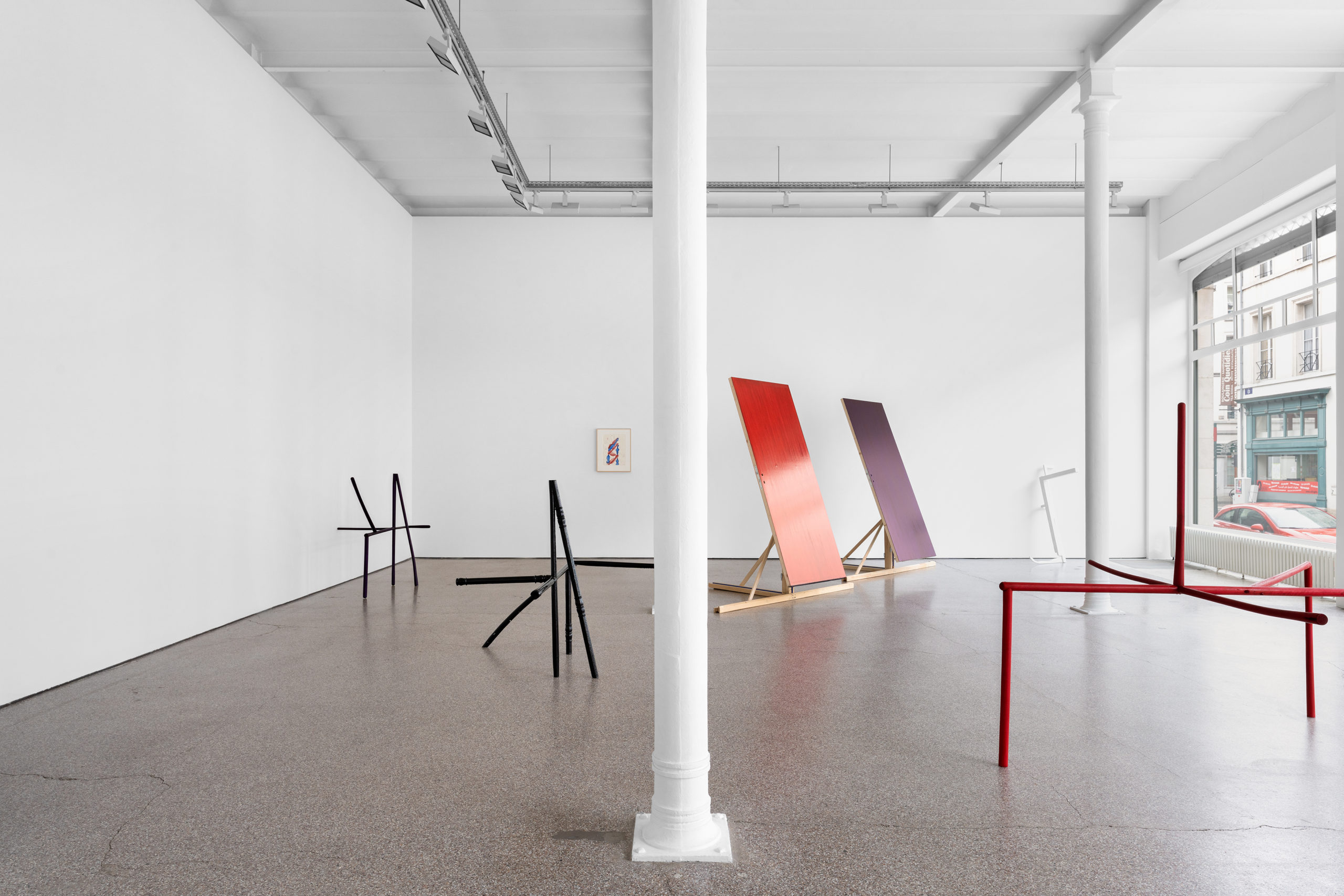 Installation view, Galerie Greta Meert, 2022
Jean-Luc Moulène (b. 1955) lives and works in Normandy, France. Recent solo exhibitions include: More or Less Bone, SculptureCenter, New York, U.S.A. (2019); The Secession Knot, Secession, Vienna, Austria (2017); Centre Georges Pompidou, Paris, France (2016); Il était une fois, Villa Medici, Rome, Italy (2015); Documents and Opus (1985- 2014), Kunstverein Hanover, Germany (2015); Beirut Art Center, Lebanon (2013); Modern Art Oxford, U.K. (2012); Opus+One, Dia:Beacon, New York, U.S.A. (2012); Carré d'art – Musée d'art contemporain, Nîmes, France (2010); Le Monde – Le Louvre, Musée du Louvre, Paris, France (2005); He participated to several biennales: 58th Venice Biennale, Italy (2019); Taipei Biennale, Taiwan (2016); Biennale Internationale Design, Saint-Etienne, France (2015); Sharja Biennale, U.A.E. (2011) and at the Sao Paulo Biennale, Brazil (2002).